Nightmare Vermont is a unique, all-volunteer, charity Halloween event in the U.S., combining live stage combat, an original theatrical storyline, and all the best in interactive scares and special effects. The event has run in underground spaces and as part of other community events since 2004.  Thousands of people enjoy the show every year and we're looking forward to scaring your socks off in 2018.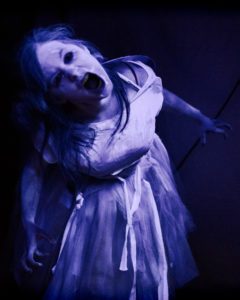 Showtimes: October 18-20, 25-27. Tickets to enter the show are available for timslots between 7 and 10pm on Thursdays and Fridays, 6pm and 11pm Saturdays. Click BUY TICKETS above for specific showtimes. Click HERE for directions to the Expo.
New This Year: Nightmare Vermont 2018 returns to our beloved theatrical format for our 13th season. We'll take you into the bowels of a notorious women's prison, where evil forces brew and atrocities fester. Go into lockdown with Vermont's premiere haunted event. We'll be starting a riot and summoning some demons as well as dishing out a little satisfying vengeance. Bring the whole family (leave the little kids at home) for thrills, chills, and a howling night of fun in the echoing bowels of the Grandstand at the Champlain Valley Exposition. Wondering what it will be like? Visit our frequently asked questions to learn more.
For Scaredy Cats: In keeping with Nightmare tradition, Ghost Wards are available at the door for $1. These are ornaments that will let you "ghost" the event. Ghosts are invisible to everyone in the event, including all characters.
For Thrill-Seekers: Monster Teasers are glowing ornaments which make you fair game to all the characters in the show. They may drag you about, get you messy, perform a little impromptu surgery on your person, and generally make you part of the show. ONE Teaser is auctioned off to every group UNLESS you pre-buy a teaser for your timeslot for $40. Contact tickets@nightmarevermont.org to check availability.
EXTRA BLOODY NIGHT will be the very last show on the last night of the run: Saturday, October 27th at 10:40pm. BE PREPARED: you will get DIRTY. You will get BLOODY. No one will be safe.
Charitable Mission: Nightmare Vermont and  Spookyville Vermont are committed to supporting local charities and giving back to the community. We partner with Camp Exclamation Point, which is our signature charity again in 2018. Other charitable endeavors are our Summer Sling Scholarship, Del's Ride and Essex Chips.